Greetings! Today is my last day in Holland! Time flies when you're having a
good
great time. Yesterday Sophie and I wandered around Den Haag in the impending rain and got a delicious breakfast at
Crunch
. Afterwards we found ourselves a nice latte at a
Coffee Company
and both did
some blogging
. It has been so much fun travelling around with a fellow blogger. We got to "talk shop" and swapped blogging advice/photoshop tutorials. Taking photos with another blogger is always fun; you never feel judged and they are always down to try multiple poses and angles, I definitely recommend it.
Fellow bloggers or not, it has been amazing to spend some time with Sophie! We've been friends for almost ten years and she is simply delightful. She's a wonderful human and I am unfailingly impressed with her courage and tenacity, not to mention her wherewithal to figure out how to be a Canadian living on Dutch soil. We have had some excellent conversations over the course of my stay. Sometimes you just need to talk to people who have known you for a long time for things to click, and also to laugh at you. Sophalicious (I know you're reading this) you are fantastic! Thank you for an amazing time in the Netherlands, it will always have a special place in my heart now. Also you are an excellent tour guide. Next time: we conquer the bikes!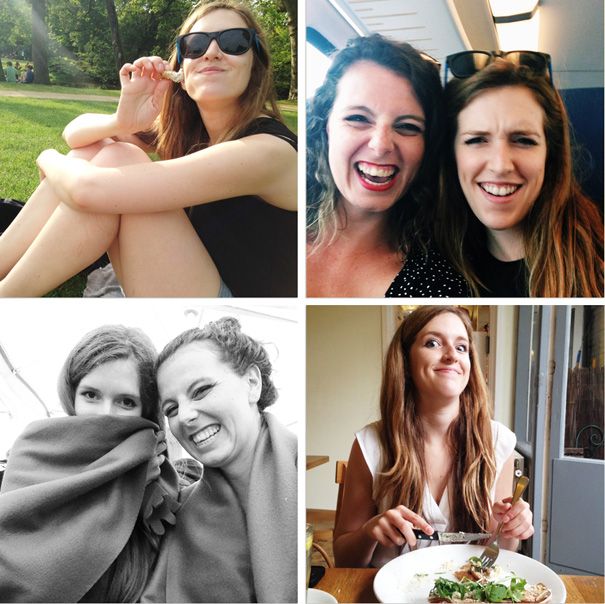 After we lurked around Den Haag coffee shops, we took a quick 10 minute train ride to spend the afternoon and evening in beautiful, medieval
Delft
. We visited the Oude Kerk (old church) and found a cozy patio to roost in for a few hours. Delft is super beautiful! It was rainy during our time there but instead of putting a damper (ha! pun!) on our time there, I think it enhanced it's medieval air of intrigue. Yes, you should absolutely go to Delft.
I have lots of photos from Delft + our day trip to Amsterdam and will share them soon. Today is a travel day: I'm packing up all my belongings from Sophie's living room and moving them to a hostel in Brussels! A huge thank you to Sophie and Pieter, her lovely super nice boyfriend, for letting me stay with them at their place and for touring me around/buying me deep fried cheese.
My sister, Zelda, arrives in Den Haag this afternoon and then she and I will take the train to Brussels for a few days of cherry beer, mussels and museums. I've stumbled across a few helpful posts such as this
mini travel guide to Brussels
and
this one
too, to help us plan our adventures. If you've been to Brussels I am all ears for suggestions!
Here's a super flattering photo of Zelda and I from 2011 when we visited in London with our dad...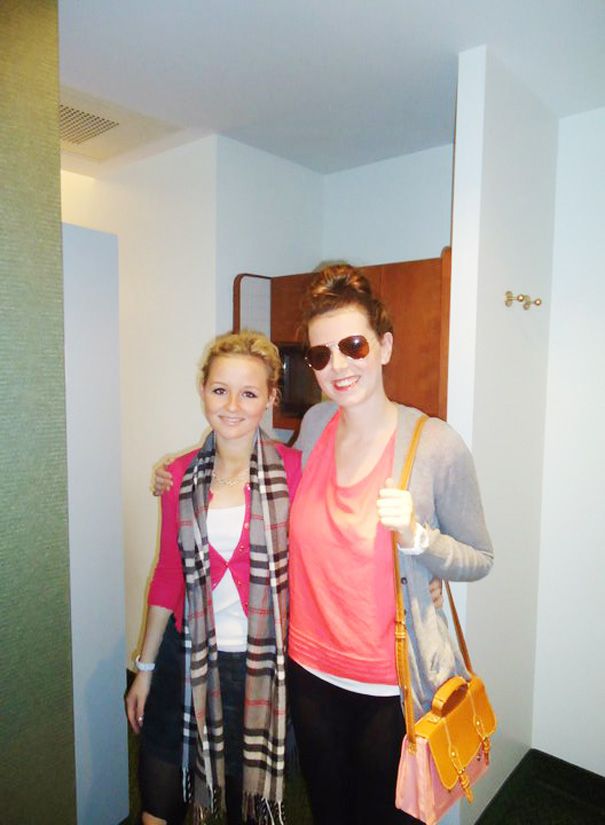 RIP those sunglasses who now reside in the bottom of lake Ontario (not really RIP though)
Sadly I think that's our most recent photo together. She goes to school in Vancouver and when she's not there she is in Germany, so our paths don't cross in person that often. Thankfully there's Skype and Instagram and other magical wonders of social media. I'm excited to spend some time together, hopefully I won't embarrass her too much (I'm 6 years older!) and her cool European attitude will rub off on me. I'm totally forcing her into taking selfies with me. She'll love it. After Brussels I head to Paris for a few days of solo travelling aka eating macarons alone in the park and quite possibly nothing else...
and after that I meet up with my dad and we'll travel to Germany and Denmark! Having friends and family who live in Europe is like, way cool. Obvious statement is obvious. I hope you are all having a fantastic day! Feel free to follow along with my European adventures on
Instagram
and
twitter
. See you in Brussels!
PS check out earlier travel adventures here
top photos by me
cartoons from Hyperbole & a Half