Hello internet friends! How are you faring these days? Since exams are over, I've been all too happy to get back to my cocktail making hobby. Today we're making...a shrub!
A nice one! That's not too expensive!
I have seen many a tempting sounding recipe for shrub-based cocktails floating around
pinterest
and
liqurious
and decided I simply must try one myself.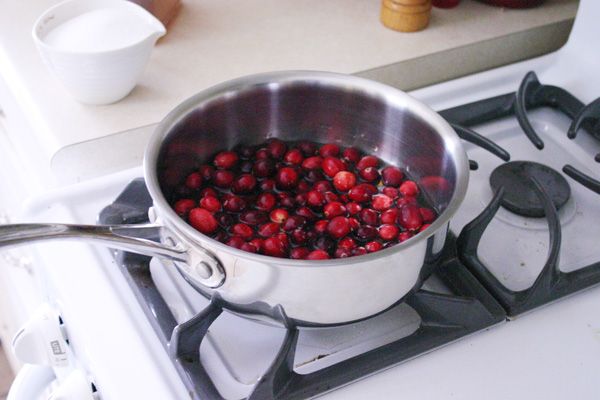 Shrubs, which are also known as drinking vinegars, were a fixture in the 18th and 19th centuries before refrigeration was a thing people were into. They were also made by sailors to help illegally smuggle alcohol, because sailors were crafty and knew how to get away with a fair bit of crime (in that vein, we can also thank them for
vodka gimlets
.) Shrubs are made by preserving fruits and berries in vinegar and adding alcohol or sodas for festive sipping. The vinegar helps keep bacteria at bay and lets you enjoy fruits long past their seasons. I thought I would go with a cranberry shrub, since it's the holidays and all.
One would think that something called a "drinking" vinegar would be unpleasant on the palette but this was surprisingly sweet and only slightly acidic. It makes a nice after dinner beverage.
As I was short on time, I used the hot method: boiling and straining my ingredients. I think with a bit more time I will try the cold method, which involves berries and sugar sitting overnight and then mixing with the vinegar. The Kitchn has
a good post with instructions
on the cold press method. Both ways are dead easy and a great way to use up left over fruit or berries that have gone a bit wibbly. This would make a nice gift for the holidays (because it's cheap and easy for those of us who are, uh, in full time school and not currently holding high paying jobs, or whatever.) Cheers!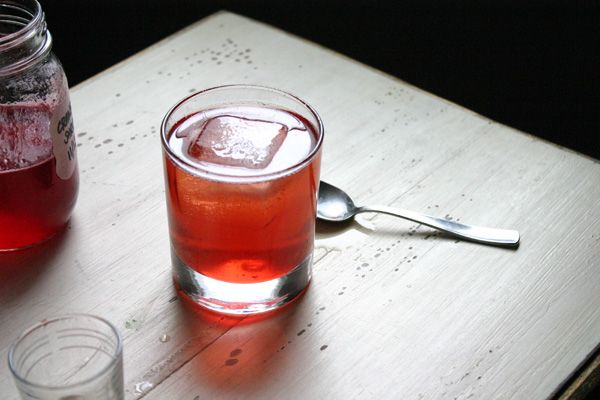 Cranberry Bourbon Shrub
makes one drink
3/4 oz shrub mixture (see below)
1.5 oz bourbon
up to 1 oz club soda
orange for garnish
Fill a rocks glass with ice. Add shrub and bourbon, stir together with a bar spoon until combined. Top with club soda. Add orange peel for garnish, rubbing the peel around the rim of the glass. Add more or less shrub to taste. Enjoy!
Cranberry Shrub
makes about a cup
1 cup vinegar (apple cider, white wine, etc)
1-1 1/2 cup fresh or frozen cranberries
1 cup sugar
Combine all ingredients in a sauce pan on medium heat. Stir constantly until cranberries begin to burst. Strain mixture through mesh strainer or cheese cloth. Let cool completely before putting in fridge. Add to sodas or mix with booze. Store in fridge for up to three weeks. Enjoy!
PS Full Shrubbery Sketch