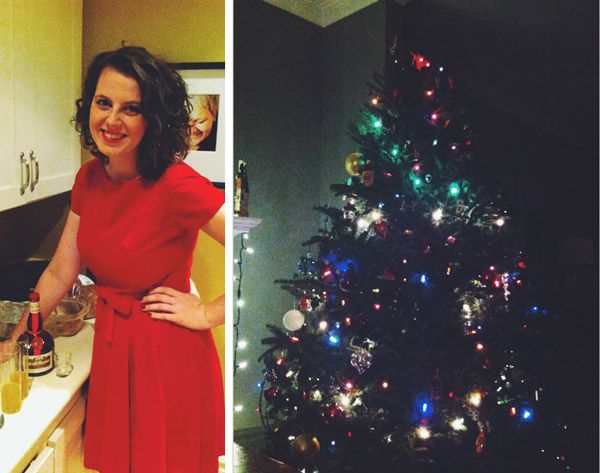 shameless holiday-dress wearing and showing-off of Christmas tree
Welcome to the weekend! On Wednesday, I wrote an exam that required many, many hours of studying (and worrying, because I'm me) and since I walked out of that classroom I have been loving life. Yesterday felt like a holiday (even though it wasn't) and today totally feels like vacation (even though it isn't). I have been reading
Homeward Bound: Why Women Are Embracing The New Domesticity
and it's very interesting. Additionally, I have been watching an exorbitant amount of Doctor Who. It's been life changing. First and foremost all the British accents have all accumulated in my brain and seem to be spilling out of my mouth. So, sorry I'm not sorry if I talk at you all British, it's not my fault (cultural difference side note: Brits say "eh?" way more than Canadians.) All this reading and watching of Doctor Who is helping to stave off the heart palpitations that sometimes (always) come unannounced and are induced by thinking about starting placement. It's like there's a big bouncy ball full of excitement and worry and all the things I've memorized and all the things I was supposed to but forgot. It's bouncing around inside of me, setting off alarm bells and making me laugh that laugh where you are nervous and excited and your eyes get wide and people are like "um what's wrong with you?". So it's going great. As much as I'm stressing about it, I'm so delighted to be lucky enough to have travelled even this far down the road. #lifeadventures, am I right?
I'm off to run a whole bunch of grown up errands today (snow tires 4evs) and this weekend I'm going up to Cambridge to meet my Preceptor, the midwife that I'll be following/learning from/peppering with questions/trying not to cry in front of, which is pretty exciting! What are you up to this weekend? Here's some stuff from around the internet for reading enjoyment (and this Christmas song because it's the best christmas song ever!)
why do you follow
your favourite bloggers?
DIY
homemade lipgloss
spend less and enjoy more
over the holidays
how amazing does
this cocktail
sound??
I've been shamelessly
enjoying this
, the description kills me
tis the season for dips: the grown -ass woman's
guide to dips
I tried mulled wine for the first time last weekend and it changed my life:
this recipe
sounds delicious
what Good women
would say to Good men
sums up a lot of my November
as well
get into my mouth:
Pomegranate Jewelled Cheeseball
hmmm this
beer and coffee cocktail
sounds interesting
fascinating:
east and west
via info graphics
oh,
yes please
don't worry
if you don't know what's next
brain food: t
he best philosophy and psychology books of 2013
well isn't that just
the truth?
literary admiration:
Joan Didion
Happy Weekending!